---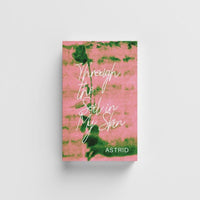 From L.A. Taco contributor Astrid comes her latest collection of poetry.
This is not how love is made. This is how it is found. In plain sight. In the reflection. In the parts you were taught to ignore.

From her first love to her biological father, Through the Soil in My Skin unearths the truth and trauma that stems from relationships. Astrid embarks on an exploration of love through her past to a discovery of self in her present, recalling the men of her life and the lessons learned.
Shatter karmic cycles and begin the journey to finding self-love alongside an artist in her becoming, in her emergence through the soil in her skin.